It's hot outside! Stay indoors, craft, and treat yourself to our Summer Sale – 15% off everything in the shop!
Use code SUMMER21 to receive 15% off your order, valid August 3 – 5 (Pacific Time). Happy shopping!


Your food themed cards and projects are definitely fun and totally creative! Thank you to everyone for joining us for the Fun with Food Challenge! Be sure to check out the Challenge 105 gallery the next time you need some fantastic inspiration!
If you are one of our Featured Fawnatics today, we invite you to grab this badge to share on your blog or other social sites!


by Katrina
using Be Hap-pea


by Nancy
using Build-A-Campsite, S'more the Merrier, Den Sweet Den


by Michelle
using Crazy Antics, Den Sweet Den, Reveal Wheel


by Andrea
using Rooting for You, Eggstra Amazing Easter, Claire's ABCs


by Mags
using A Creature Was Stirring, Love 'n Breakfast, Polka Heart Backdrop, Unicorn Picnic


by Sharon
using Let's Roll, A Creature Was Stirring, Really High Five


by Catherine
using Here's the Scoop, Unicorn Picnic, Dandy Day, Bubbles of Joy, Critters at the Dog Park (barstools)


by Mimi
using Simply Celebrate Summer, Crazy Antics, So Smooth, Snow Much Fun



And now we have our random drawing winner from Challenge 105 who wins a $25.00 gift certificate to our shop, lawnfawn.com! And the winner is…#71
Congratulations to Lynn Dionne! Please send an email to fawnies(at)lawnfawn(dot)com with "Lawn Fawnatics random winner" in the subject line. Then grab this winner badge to display on your blog and social media!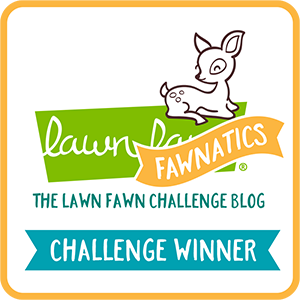 We will share Design Team inspiration during the next 2 weeks for Challenge 106 – Card Sketch! This new challenge runs until Sunday, August 15th at 11:59PM ET.
Thank you so much for joining us each month for our Lawn Fawnatics challenges! You inspire us with your amazing creativity and kindness!
Supplies: