Wow, we were so impressed with your amazing 3D Cards! Your creativity was awesome and you all totally inspired us! Thank you to everyone who joined this challenge and shared your fabulous cards with us! If you are one of our Featured Fawnatics today, we invite you to to grab this badge to share on your blog or other social sites!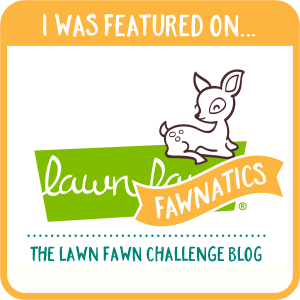 by Alix
(using Mom+Me, Flower Border, Shadow Box Card)
by Mindy
(using Stitched Hillside Pop-Up, Hay There)
by Mayra
(using Shadow Box Card, Ahoy Matey, Wild for You)
by Laura
(using Shadow Box Card, Here's the Scoop, Stitched Scalloped Borders, Gotta Have Gingham paper)
by Doni
(using Scalloped Box Card Pop-Up, Hats Off to You)
by Chris
(using Shadow Box Card, Rub-A-Dub-Dub, Meadow Borders, Quilted Backdrop, Hello Baby)
by Mona
(using Make Lemonade, Baked with Love, Sweet Friends, Bicycle Built for You, Easter Party, Critters in the Forest, Milk and Cookies)
by Joy
(using Shadow Box Card, Happy Trails)
by Davina
(using Mermaid for You, Octopi My Heart, Bannertastic)
And now we have our random winner from Challenge 27 – 3D Cards who wins a $25.00 gift certificate to our shop, lawnfawn.com!
And the winner is #39

Congratulations to Sindhu!
Please send an email to fawnies(at)lawnfawn(dot)com with Lawn Fawnatics winner in the subject line. Then grab the winner badge to display on your blog and social media!
We will share Design Team inspiration during the next 2 weeks for Challenge 28 – Sketch! This new challenge runs until Sunday May 20th at 11:59PM ET. We can't wait to see your Sketch-inspired cards fill up the gallery!
Happy crafting from Lawn Fawnatics!