You all are the best at creating amazing scenes! Wow, the gallery for our Create a Scene challenge is filled with so much creativity and a variety of ideas! Thank you all so much for sharing your fantastic projects with us!

If you are one of our Featured Fawnatics today, we invite you to grab this badge to share on your blog or other social sites!



by Jenna
using Mushroom House, Oh Gnome, All the Clouds


by Lynne
using Car Critters, Tiny Friends


by Galina
using Swan Soirée, Cattails Border, Stitched Hillside Pop-Up


by Michelle
using Gleeful Gardens, Swish 'n Pop Pull-Tab, Picket Fence Border


by Laura
using Science of Love, A Bug Deal, Party Animal, Reveal Wheel, Reveal Wheel Friends & Family Sentiments


by Janneke
using Rub-A-Dub-Dub, Lift the Flap Tree Backdrop, Stitched Mountain Borders, Mushroom Borders, Cattail Borders


by Jen
using Screen Time, Crazy Antics, Happy Happy Happy


by Anke
using Fairy Friends, Frosty Fairy Friends, Let's Go Nuts




And now we have our random drawing winner from Challenge 99 who wins a $25.00 gift certificate to our shop, lawnfawn.com! And the winner is…#2

Congratulations to Floriane (lilangel78140)! Please send an email to fawnies(at)lawnfawn(dot)com with "Lawn Fawnatics random winner" in the subject line. Then grab this winner badge to display on your blog and social media!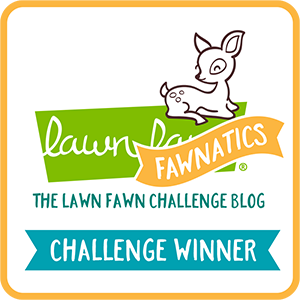 We will share Design Team inspiration during the next 2 weeks for Challenge 100 – Cards for Kids! This new challenge runs until Sunday, May 16th at 11:59PM ET.
Thank you so much for joining us each month for our Lawn Fawnatics challenges! You inspire us with your amazing creativity and kindness!
Supplies: