We were amazed at the creativity you all shared with us for our Fun with Dies challenge! Thank you for playing along and sharing your cards and crafty projects with us! If you are one of our Featured Fawnatics we would love for you to grab this badge to share on your blog or other social sites!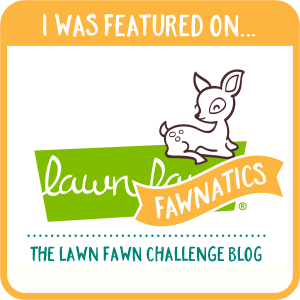 by Sammy
(using Mom + Me, Spring Sprig, Stitched Windy Backdrop)
by Snow
(using Woodland Critter Huggers)
by Kim
(using Slow Down and Enjoy, Mini Picture Frames, Happy Happy Happy)
by Amy
(using Little Flowers, Easter Border, Spring Sprig)
by Irene
(using Shadow Box Card, Year Seven, Leafy Tree Backdrop)
by Thi
(using Make Lemonade, Quilted Backdrop, Outside In Stitched Heart Stackables)
by Anni
(using Hay There, Mini Picture Frames)
by Sou
(using Woodland Critter Huggers)
And now we have our random winner from Challenge 24 – Fun with Dies who wins a $25.00 gift certificate to our shop, lawnfawn.com!
And the winner is #112

Congrats to Amy @card.chick!
Please send an email to fawnies(at)lawnfawn(dot)com with Lawn Fawnatics winner in the subject line. Then grab the winner badge to display on your blog and social media!
We will share Design Team inspiration during the next 2 weeks for Challenge 25 – Color Inspiration! This new challenge runs until Sunday April 1st at 11:59PM ET. We can't wait to see the challenge gallery filled with your colorful cards and crafts!
Happy crafting from Lawn Fawnatics!