Happy Monday, Fawnatics friends! Welcome to the last challenge of 2020! Let's look forward to a brighter new year with projects to celebrate the arrival of 2021! Use the inspiration board to spur your creativity to craft up a Happy New Year!
We invite you to share your creativity by linking up your crafty projects at the end of this post! Your project should feature Lawn Fawn stamps, dies and papers. This challenge will run for 2 weeks and be open until Sunday, January 3rd at 11:59PM ET.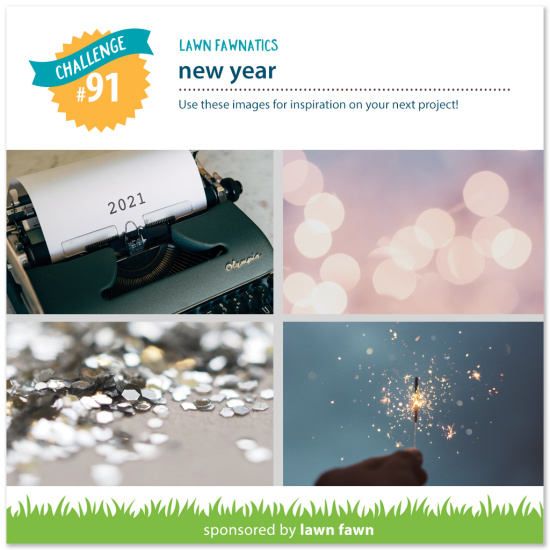 For each challenge, we will randomly select an entry to receive a $25.00 gift certificate to the Lawn Fawn shop! We will also be highlighting a few of your fabulous projects at the close of each challenge! By linking your projects to our challenges you will give permission for us to post your work to this blog and our social media sites. Check out the How to Play page for a few guidelines to play along. We want this to be FUN so we'll keep the rules to just a few!

We are so happy to welcome Mimi as our Guest Designer for this challenge! You probably know and follow her as dasmimz on Instagram. She has been impressing us with her amazing creativity and we are so excited to share her New Year projects! Look for her second card to inspire you next week!

Mimi was inspired by the cool bokeh image in the Inspiration Board to create this amazing design! The Snow Much Fun and Den Sweet Den bears are celebrating the new year in style! Mimi used Let's Bokeh to make a festive backdrop for her cheery scene! To make this an interactive card, Mimi used the Waving Pull-Tab Starter Set to make the bear wave his paws with the party accessories.


Now let's check out the Happy New Year projects by our amazing Design Team!
The Really High Five critters are flyin' by with Happy New Year wishes on Caly's fun design! She used the Puffy Cloud Backdrop: Portrait to create the that awesome background which she blended with pretty pastel inks! She used Oliver's Stitched 123s in glittery gold and a Fancy Wavy Banner to stamped with a Winter Wavy Sayings sentiment to complete the happy greeting!


Franci's mice are baking up a sweet wish for the new year! She combined A Creature Was Stirring and Baked with Love to create this lovely confection!


Samantha was inspired by the bokeh image in the inspiration board! She used Let's Bokeh to create shiny clear embossed "bubbles" on a beautifully inked backdrop! The greeting is found in the Let's Bokeh set as well.


Karin's card is so beautiful with its colorful Stitched Poinsettia and Oliver's Stitched 123s in metallic gold! I love the pretty Quilted Backdrop behind the flower and all the fun layers!


Christy's beautiful interactive card is a wonderful mix of old and new! She created a Magic Iris Snow Globe Add-On design featuring Ready Set Snow, Let It Shine papers and a greeting from Merry Messages!


Samantha used a festive color palette with shiny gold and gray to create this happy new year card! She combined Scripty Cheers with cute images from Party Animal with Metallic Gold and Shimmer cardstock. The star in the background is our classic Puffy Star Stackables cut from Cream Sprinkle and Shine Let It Shine paper!


Jessica's design features a Woodland Critter Hugger decked out in accessories from the Winter Add-On on a tall slimline card! When you open the critters arms the greeting combining Happy Happy Happy Add-On and Scripty Cheers is completed using Finley's 123s!


Joyce created a lovely card with wishes for a year filled with happiness using Tree Before 'n Afters! It is simply beautiful!


Jenn is the bringing the sparkly bling and bold bokeh in her new year design! She used Oliver's Stitched ABCs and 123s to spell out the Chunky and Prisma Glitter sprinkled greeting! She finished the message on a Fancy Folded Banner!


We will share Design Team inspiration for you over the next 2 weeks and we'll announce our Featured Fawnatics and random winner for Challenge 90 tomorrow!