We hope you enjoy today's inspiration! We can't wait to see your creativity! The Challenge 125 – Dies Only is a 3 week challenge and will be open until Sunday, June 5 at 11:59PM ET. 

Today, Mimi joins us with creative Plant-A-Succulent inspiration!

Mimi created a set of glass bowl terrariums to fill with succulents using lots of clever die sets and holographic cardstock. She started with a Scalloped Slimline cut from Watercolor Wishes Rainbow paper to frame a white Woodgrain background.


For the large terrarium she used the Lovely Latte die, filling it first with dirt and rocks then all the pretty succulents! She also included the sign die from Berry Special as a sweet little detail. I love how she replaced the O in so from Giant Thanks so Much with a succulent bowl, that is so clever!

She got really clever with the smaller bowls! The medium one is made with the coordinating die for Snow Globe Scenes. The small bowl is the windshield from the Car Critters coordinating die set with a piece from Plant-A-Succulent. I love how she hung it from the top of the card using a hanger from Mini Picture Frames!

She got even more clever to fill the bottom of the bowls with rocks made using the mouths from Make Me Smile along with the rock dies from Build-An Aquarium! Check out the handy diagram below for all of Mimi's clever ideas.



Thank you so much for sharing this amazing design, Mimi! Your creative use of dies is so inspiring!

Supplies: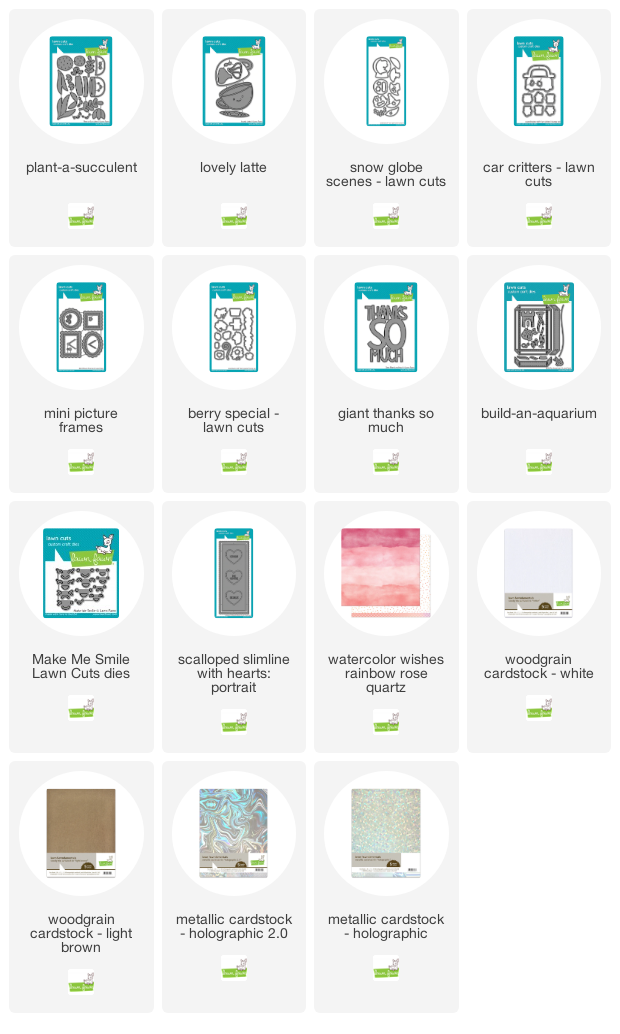 Happy crafting, friends! We hope you are having fun with this challenge!