Wow, we really loved seeing your Favorite Place cards and crafts! From home sweet home to fantasy places and everything in between your creativity was definitely on display! Big thanks to everyone who participated in this challenge! If you are one of our Featured Fawnatics today, we invite you to to grab this badge to share on your blog or other social sites!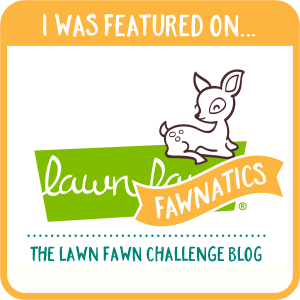 by Marine
(using Frosty Fairy Friends)
by Marianne
(using Meow You Doin'?, Leafy Tree Backdrop, Plane and Simple)
by Arlene
(using Life is Good, Jessie's ABCs, Quinn's Capital ABCs, So Jelly)
by Jillian
(using Cheery Christmas, Birch Trees, Stitched Mountain Borders, Upon a Star)
by Davina
(using Village Shops, Winter Village, Coaster Critters, Critters Ever After)
by Traci
(using Pizza My Heart, Gingham Backdrops, Quinn's Capital ABCs)
by Heather
(using Bicycle Built for You, Just for You, Holiday Party Animal, Critter Concert)
by Ashley
(using Quinn's ABCs, Lovable Legends, Happy Trails, Whale You Be Mine, Love You a Latte)
by Ashley (we couldn't choose between her two fabulous cards)
(using Bicycle Built for You, Critters Ever After, Love You Tons, Coaster Critters, Booyah)
And now we have our random winner from Challenge 34 – My Favorite Place who wins a $25.00 gift certificate to our shop, lawnfawn.com!
And the winner is…#63

Congratulations to KrisKitCraft!
Please send an email to fawnies(at)lawnfawn(dot)com with "Lawn Fawnatics winner" in the subject line. Then grab the winner badge to display on your blog and social media!
We will share Design Team inspiration during the next 2 weeks for Challenge 35 – Coffee, Tea and Treats! This new challenge runs until Sunday September 2nd at 11:59PM ET. We can't wait to see your Coffee, Tea and Treats creativity in the challenge gallery!