There are lots of happy kids out there who got some amazing cards recently! Your Cards for Kids entries were filled with happy kid-friendly ideas and so much fun! Thank you all so much for sharing your creativity with us!


If you are one of our Featured Fawnatics today, we invite you to grab this badge to share on your blog or other social sites!



by Priyanka
using Rawrsome, Unicorn Picnic, Out of This World, Birthday Before 'n Afters, Scripty Happy, Scripty Birthday, Stitched Scalloped Rectangle Frame


by Susi
using Say What? Spring Critters, Swish 'n Pop Pull-Tab


by Rosali
using Giant Sending Big Hugs, Germ-free Bear, Stinkin' Cute


by Marlies
using Snow Much Fun, Waving Pull-Tab Start Set, Scripty Birthday, Year Two


by Sharna
using Elphie Selfie Flip-Flop, Offset Sayings: Birthday, Fancy Wavy Banners


by Annie
using Wild for You, Flippin' Awesome, Flippin' Awesome Add-On


by Laura
using Swan Soirée, Bunting Borders, Magic Iris Snow Globe Add-On


by Leontine
using Reveal Wheel, Reveal Wheel Puffy Cloud Add-On, Den Sweet Den, Snow Much Fun, Starry Sky Stencil, Unicorn Picnic


And now we have our random drawing winner from Challenge 100 who wins a $25.00 gift certificate to our shop, lawnfawn.com! And the winner is…#81

Congratulations to Melissa Santoro! Please send an email to fawnies(at)lawnfawn(dot)com with "Lawn Fawnatics random winner" in the subject line. Then grab this winner badge to display on your blog and social media!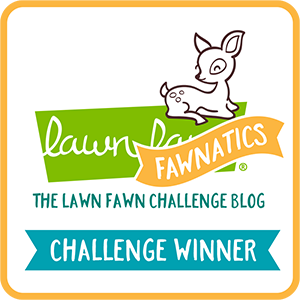 We will share Design Team inspiration during the next 3 weeks for Challenge 101 – Travel Destination/Favorite Place! This new challenge runs until Sunday, June 6th at 11:59PM ET.
Thank you so much for joining us each month for our Lawn Fawnatics challenges! You inspire us with your amazing creativity and kindness!
Supplies: