Wow, we absolutely loved all of your amazing floral creations! There was so much creativity on display for this challenge it was truly difficult to choose which ones to feature! We appreciate that you share your love of paper-crafting with us! If you are one of our Featured Fawnatics today, we invite you to to grab this badge to share on your blog or other social sites!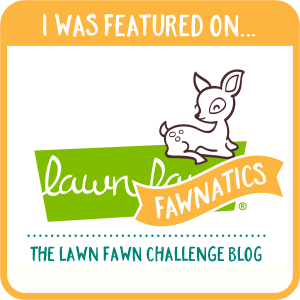 by Nikki
(using Critters Ever After, Flower Border, Little Picket Fence Border)
by Megan
(using Happy Village)
by Ginger
(using Pillow Box, Little Flowers, Spring Sprig)
by Debbie
(using Flutter By)
by Mandy
(using Gnome Sweet Gnome, Gleeful Gardens, Mini Picture Frames)
by Natasha
(using Gleeful Gardens)
by Jackie
(using Gleeful Gardens, Toadally Awesome, Rub-A-Dub-Dub, Little Fireflies, Fairy Friends)
by Mayra
(using Fairy Friends)
by Mona
(using Mermaid for You, Fairy Friends, You Are Sublime)
And now we have our random winner from Challenge 31 – Flowers, Floral and Foliage who wins a $25.00 gift certificate to our shop, lawnfawn.com!
And the winner is…#57

Congratulations to Linda!
Please send an email to fawnies(at)lawnfawn(dot)com with "Lawn Fawnatics winner" in the subject line. Then grab the winner badge to display on your blog and social media!
We will share Design Team inspiration during the next 2 weeks for Challenge 32 – Color Inspiration! This new challenge runs until Sunday July 15th at 11:59PM ET. We can't wait to see your colorful summery designs in the challenge gallery!
Happy crafting from your friends at Lawn Fawnatics!