We want to say a sincere thank you to everyone for making our 1st birthday a real celebration! You all shared some fabulous and colorful cards for this challenge; we've been smiling the whole 2 weeks! Thank you so much! If you are one of our Featured Fawnatics we would love for you to grab this badge to share on your blog or other social sites!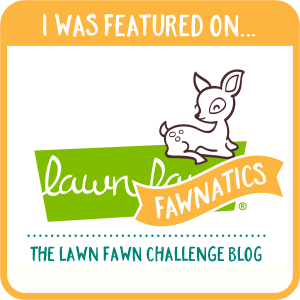 by Christy
(using Chirpy Chirp Chirp, Meadow Borders)
by Trina
(using Toadally Awesome)
by Helena
(using Aloha, Scripty Aloha, Quilted Backdrop)
by Rina
(using Easter Party, Bannertastic, Costume Party, Quilted Backdrop)
by Lisa
(using Really Rainbow paper, One in a Chameleon, Happy Happy Happy)
by Rachel
(using Year Seven)
by Sandra
(using Stitched Basket)
by Su-Queen
(using Little Flowers, Easter Party)
And now we have our random winner from Challenge 25 – Color Inspiration who wins a $25.00 gift certificate to our shop, lawnfawn.com!
And the winner is #136

Congrats to Kerys!
Please send an email to fawnies(at)lawnfawn(dot)com with Lawn Fawnatics winner in the subject line. Then grab the winner badge to display on your blog and social media!
We will share Design Team inspiration during the next 2 weeks for Challenge 26 – Card Sets! This new challenge runs until Sunday April 15th at 11:59PM ET. We can't wait to see your crafty ideas fill up the gallery!
Happy crafting from Lawn Fawnatics!